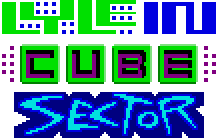 Lyle in Cube Sector MD
Lyle in Cube Sector is a freeware metroid-esque game for the PC from 2006. It looked like an NES game before that was what all the hip kids were doing. The original game was created by Nic DeStefano (bogosoft) and is being ported to Sega hardware over a decade later by Michael Moffitt (mikejmoffitt). The original game's style suits the system perfectly, so the conversion is a near 1:1 replica of the original game. The soundtrack has been rearranged to fit on the Genesis's FM synth hardware, and the graphics are nearly indistinguishable from the original.

An eventual cartridge release and ROM download is planned, but the game is open source and its progress can be tracked openly.
https://github.com/mikejmoffitt/LICS
The original game's description is as follows:
"STORY":
OHNO! LYLE'S KITTY HAS BEEN STOLENED AND NOW HE MUST JOURNEY THROUGH THE WONKED OUT LANDS OF THE CUBESECTOR TO RETRIEVE HIS MEOWMEOW COMPANION!
FEATURES:
* Throw cubes to defeat enemies *
* Explore to aquire new cube powers *
* Non-linear gameplay *
* Retro 80's style graphics *
* Map system *
* Many different cube types *
* Health & magic upgrades *
* Warp room *